A 15-year-old party is the dream of every girl, her transition from girl to woman is celebrated, it is an unforgettable night like a fairy tale, It is the day in which the quinceañera receives all the attention, all eyes go straight to she. This party is the perfect excuse to get together with your friends, colleagues and family in a big way with music and food.
For the party, you can not miss the invitations, choosing an attractive invitation will help you leave a good impression. Choose and customize one of our designs for quinceañeras.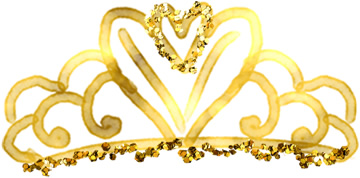 In quinceanerainvitations.org you can create an invitation to edit in english for your fifteenth year that draws attention with beautiful details, according to the theme of this special day. Create a fun, creative and original personalized card.
We have the best collection of invitations and digital images with creative and original phrases from 15 years to print or share online for free.
Free Printable Quinceañera Invitations Templates
Diy Quinceañera Invitations fun and easy to make.
Sweet fifteen Invitations to edit, personalize, print with excellent image resolution.
You can create your own free printable Quinceañera Invitation online with personalized text.
We have beautiful models of 15th Birthday Invitations so you can choose the one you like the most!
Here we show you the best Quinceañera Invitations ideas, cards, designs and original birthday templates.
Happy Birthday Wishes, Messages and Quotes for a Quinceañera
We have the best super original Quinceañera Quotes ideas to print, fun, creative, simple for our little ones, very easy and free.
Quinceañera Thank You Cards
Printables Quinceañera Thank You Cards can not miss at your party, our selection will help you in organizing you Sweet fifteen gift tags, we give you many original and creative ideas to make it easy and affordable.
Printable Quinceañera Cupcake Toppers
Quinceañera Cupcake Toppers are a great addition to any candy bar. They are labels that add to the decoration of birthday party. Beautiful and Magical template design.
Quinceañera Banner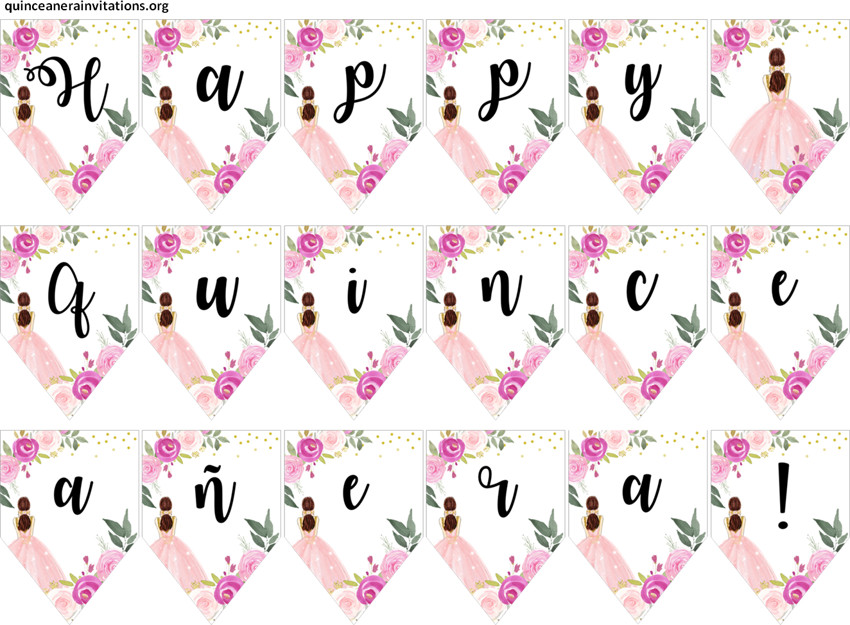 Free Printable Quinceañera Banner
Quinceañera Banner are a great addition to any party. They are labels that add to the decoration of birthday party.
Free Quinceañera Water Bottle Labels
Printables Quinceañera water bottle can not miss at your Sweet fifteen party, our selection will help you in organizing the Quinceañera treats table, we give you many original and creative ideas to make it easy and affordable.
Quinceañera Food Labels
Printables Quinceañera Food Labels can not miss at your next Quinceañera birthday party, our selection will help you in organizing the Quinceañera treats table, we give you many original and creative ideas to make it easy and affordable.
Quinceañera Photo Booth
Free Printable Quinceañera Photo Booth Props
If you want to give the party a bit of humor, you cannot miss the photo booths, since they are very fun and are special for photos and then upload them to social networks.
Quinceañera Budget Template
Quinceañera Budget Template are a great addition to organizing any birthday party. Beautiful Quinceañera template design.
How To Make Quinceañera Invitations
To create and edit your Quinceañera invitation is very simple, but in case you don't know how to do it, we have a tutorial on How to edit the invitation in adobe reader.
All the Quinceañera invitations can be printed or shared on your favorite social network. Instagram, Twitter, Facebook, Pinterest etc. The invitations are designed for all types of aesthetics and tastes. Choose an Sweet fifteen invitation that identifies you that transmits something to you and you just have to edit and personalize it.
After choosing and modifying the personalized 15th birthday invitations, you would only have to print or share them by WhatsApp or you can send them by email. In the tutorial on how to edit the invitation you have detailed instructions on how to send and print.
Print your Quinceañera Invitation in high resolution or share it online
In case you don't know how to express what a Quinceañera birthday invitation has, we offer you simple customization options.
How to make Quinceañera Invitations
Every time we have less time for everything, we are running from one side to the other and we leave everything to the last moment, at quinceanerainvitations.org we are here to help you and take one less worry out of you, you just have to choose a Quinceañera invitation and customize it.
All cards are printable. Digital invitations ready to print or share. Did you find your perfect Quinceañera invitation?
We have many examples of editable, modern and elegant blank design formats for free digital Quinceañera invitations in english without text to fill with different colors.
Everything you need to know about the quinceañera
Did you have a quinceañera? Do you remember that special day? If you are a woman, you know that turning fifteen is one of the most important moments in your life and celebrating it is an event.
Do you want to know what is the origin of this celebration? What does it mean to be a quinceañera? What does it mean to have a party of this type? Keep reading! Next, we will reveal everything about this very endearing event.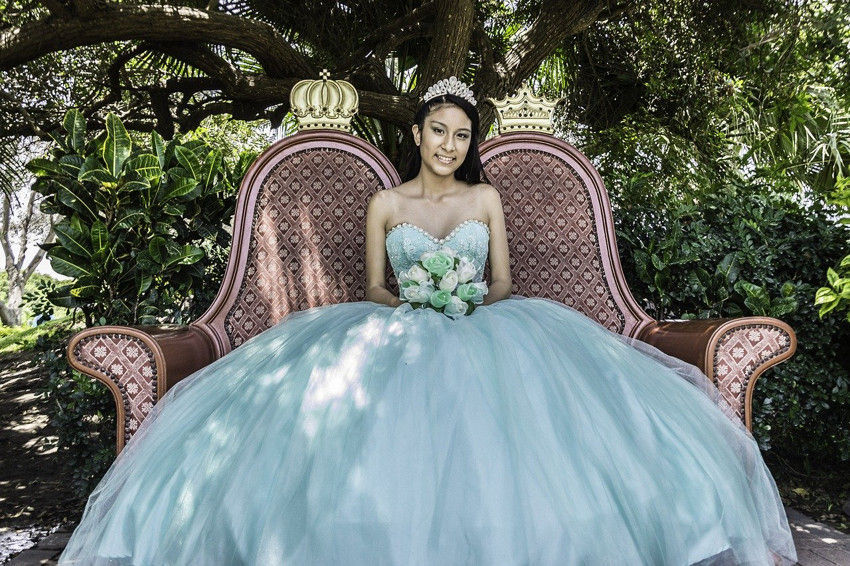 The origin of the celebration
The custom of celebrating a woman's fifteenth birthday dates back to pre-Columbian times. According to historians and anthropologists, it has its origin in the Aztec and Mayan cultures, which settled in Mesoamerica before the arrival of Christopher Columbus.
You should know that, at that time, at that age women left their home to the tepochcalli, where they prepared for marriage, then returned to their community to celebrate what they had learned. In effect, it was a kind of graduation.
Later, as a result of the Spanish conquest, other elements were introduced in the celebration. One of the most significant was the Catholic mass.
Later, the waltz, the chambelanes, the dress and the crown were added, ingredients that gave the celebration an aura of splendor in the style of European courts. The main objective of these meetings was the presentation to society of the marriageable young women.
In short, this celebration is about a syncretism or cultural fusion that brought with it the miscegenation of which the indigenous peoples were the object.
The quinceañera party
In Latin America, this festival is one of the most deeply rooted customs and with the greatest presence within the popular culture of the region. In essence, it is a ritual that symbolizes the transition to adulthood for a woman; however, it is not exempt from other types of connotations.
The quinceañera is also a religious ceremony, but, although it has the same importance, did you know that it is not considered a Catholic sacrament, such as, for example, baptism or confirmation?
However, it is an act of consecration in which the young quinceañera receives communion from the priest and delivers a bouquet of flowers to the Virgin Mary. After mass, the party begins, which has a characteristic protocol. Let's see it in detail!
The quinceañera outfit
Who has not dreamed of dressing up like a princess? Well, that wish comes true for most girls when they turn fifteen. The dress worn by the young women on that date has a marked Cinderella style. It is characterized by being pompous, with a very wide skirt (with crinoline underneath) and a corset that enhances the female figure.
On the other hand, it is customary to wear a tiara and high heels, elements that are put on the young woman by her parents before starting the waltz. In particular, the mother is the one who puts the tiara on her daughter (this is like the princess of the family, the most valuable thing) and the father is in charge of putting on her slippers (she is ready for her first dance in society).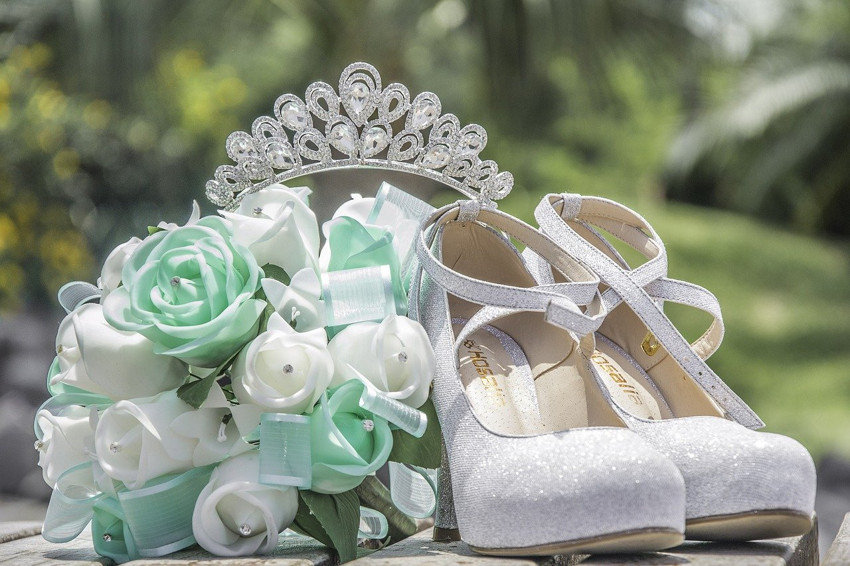 The quinceañera Vals
Have you heard the famous song Tiempo de vals, by the singer Chayanne? If so, you probably find yourself humming it right now. And the thing is, "dancing the waltz well…", as Shakira's also iconic song says, is what should be done at the peak of the celebration.
For this, the young woman prepares herself by rehearsing the choreography (days and even months before) and chooses her dance companions, that is, the famous chambelanes. In addition, they escort the quinceañera to her entrance to the room and, on many occasions, dressed as cadets, draw their swords and make the honor guard for the protagonist of the event to pass.
Traditionally, it is danced to the rhythm of a classical piece of music, such as Swan Lake, by Tchaikovsky, or On the waves, by Juventino Rosas. The steps are simple and elegant (measure of three) and are accompanied by turns, some jumps and charges, as well as the movement of the arms.
The quinceañera Event customs
The delivery of the last doll (usually porcelain) is a significant act that represents leaving behind the habits of childhood and assuming the responsibilities of adulthood.
It is also common to make a toast (uncover a sparkling drink and share it) in which parents, godparents and other family members speak and give a short speech to the quinceañera.
Another rite of great symbolism is the lighting of the 15 candles (they represent each year of life), for which the girl previously chooses fifteen people who have been significant to her (they have advised, supported, etc.) and invites them to light a candle as a sign of good omen.
Finally, it is worth highlighting the moment of splitting the cake, which is distinguished by its shape (in most cases it is made up of several floors) and by its bright colors.
In more modern ceremonies, a video can be played with the most momentous moments of the honoree.
Being a quinceañera today
Due to the migration of Latinos abroad, the celebration of fifteen years is spreading throughout the world with greater force. Particularly in the United States, where it gains popularity and tends to merge with the sweet sixteen.
On the other hand, organizing this type of party requires a strong financial expense for families. For this reason, the figure of the godparents becomes crucial, since they cooperate with the expenses. Also, this event can even be seen as a symbol of social status.
In conclusion, being a quinceañera implies the beginning of a new stage in a girl's life. It is about the transition to adulthood, the transition from girl to woman and everything that it brings with it, from physical maturation to the acquisition of new social roles, such as becoming a mother, wife, single woman, worker, etc.
In case you are looking for invitations for all kinds of events, we recommend this beautiful page, perfect to complete. It is a website specialized in free birthday invitations and also includes a section specialized in quinceanera invitations.